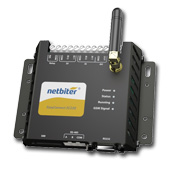 Netbiter EasyConnect EC220 Remote Monitoring Gateway is a series of communication gateways that connect to field equipment and enable direct connection to the Netbiter Argos™ data centre.
EasyConnect Remote Monitoring Gateways connect to field equipment via several connection methods: Serial RS-232/485 Modbus RTU, Modbus-TCP, SNMP or EtherNet/IP.
On-board I/O ports extend the EasyConnect gateways by allowing sensors and additional equipment to be added to the system.
The gateways interface with the cloud-based Netbiter Argos server via the cellular network or Ethernet. By logging in to www.netbiter.net, you can access and visualize equipment data online and get alarms via email or SMS whenever certain thresholds are reached.
GSM/GPRS                                                        Quad-Band GPRS Class 12 (850/900/1800/1900 MHz)
Relay Output (max 24V AC/DC, 1A               1
Digital Inputs (max 24VDC)                            2 (isolated)
Analog Inputs (PT100, 0-10 V,0-20 mA)     2
Analog Output (0-10 V)                                    1
Serial port #1                                                      RS-232, 1,2 kbit/s up to 115,2 kbit/s
Serial port #2 (isolated)                                    RS-485, 1,2 kbit/s up to 115,2 kbit/s
Antenna connector                                             SMA female
Temperature sensor                                          2 Built-in (one on the PCB and one on the modem)
Protocols                                                             Modbus-RTU/ASCII Master
Wall mounting / DIN rail                                  YES / YES with DIN-rail mounting kit
Mechanical dimensions (L•W•H)                     92 x 115 x 25 mm or 3.62 x 4.53 x 0.98 inches
Operating temperature                                     -30 to +65 °C or -30 to +149 °F
Power supply                                                      9-24 VDC
Power consumption (at max 24 VDC)            2 W
Argos parameters                                              16 Visualization / Overview
Argos log parameters                                        16
No of alarms                                                        16 via E-mail/SMS/RSS
Certifications                                                       CE, CULUS, FCC/IC, PTCRB
Click here to buy from our online store