Netbiter

Netbiter remote monitoring solution enables you to monitor, control and supervise the performance and operation of remote equipment and installations via Ethernet, GSM, GPRS or 3G networks.
Application areas include: Building & HVAC, Power Generators & Industrial Automation
Netbiter remote monitoring solutions include three main elements: Cloud management services, communication gateways and site and equipment hosting via the Netbiter Argos data centre.
Netbiter Argos is packaged in three different services that meet different user requirements. Select the Netbiter Argos Service that best suits your and your customers' needs.
REMOTE ACCESS
Opens a secure data tunnel to a PLC or machine for remote programming
VIEW AND CONTROL
Monitor and control equipment via online dashboards, trend graphs, and alarms
MANAGE AND ANALYZE
Manage several sites, equipment and users. You can also integrate data into your own systems
What is Netbiter ?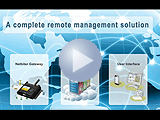 Click image to watch video explaining Netbiter remote management solution
Netbiter remote monitoring solution from HMS Industrial Networks is a complete and unique turn-key solution that enables you to control and supervise remote installations and consists of three main elements:
1. Connectivity via Netbiter communication gateways
Netbiter EasyConnect
Communication gateways ("EasyConnect") provide plug-and-play connectivity to your remote equipment in the field.
The Netbiter EasyConnect™ are small robust, remote communication gateways designed to get your industrial equipment and installations online fast! The gateways are designed for industrial applications and are available with GSM/GPRS wireless access or Ethernet communication.
Automatic Netbiter Argos™ data centre integration with full access to all Argos features
Connects to I/O or serial based field equipment via GSM/GPRS or Ethernet networks
Provides a unique and secure connection for devices behind firewalls, eliminates IP addresses and VPN tunnels
Netbiter EasyConnect 300-series
The Netbiter EasyConnect EC300 series is the newest generation of connectivity gateways that automatically connects industrial field equipment to the Netbiter Argos data center. The EC300-series supports all Netbiter Argos Services.
Instant connectivity to your remote equipment
Supports "Remote Access" — remote programming of a PLC or machine
Connectivity via GSM/GPRS/ 5-band 3G or via dual-band separated Ethernet
Firewall-friendly, no fixed IP addresses. Can be used with local SIM cards if needed
2. Secure hosting over the cloud
The Argos data centre is a secure hosting service where all your equipment data is stored and accessed.
Netbiter Argos is an online data centre gathering and storing information from your equipment in the field. The data centre is securely hosted by HMS with redundant servers in several locations. The service is FREE if large-scale storage of historical data is not required with modest fees for up to 1m records of history.
3. Cloud management services
A full suite of "cloud-based" dashboards and tools allow you to visualize your data in an easy, efficient way and are available through the Argos data centre.
Log in to Netbiter Argos at www.netbiter.net    (log in with User : demouser, Password: demouser) to access a full suite of free "cloud-based"  remote management tools
Dashboards for visualisation, monitoring & control
Alarm management
Diagnostics & data trending
Management reports
User, project management
GPS tracking – mobile asset management
Integrating Argos data centre services
Netbiter I/O Extenders
I/O Extenders are a collection of analogue and discrete I/O modules with Modbus-RTU protocol communication. The modules are ideal for a wide variety of distributed I/O applications including data acquisition and control, process monitoring as well as test and measurement.
Netbiter I/O Extenders Data Sheet
For more information please call us on 01494 865992 or click here