Remote monitoring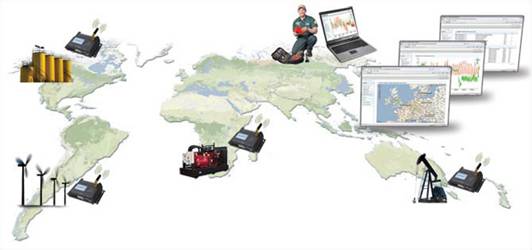 Remote monitoring  solutions enable you to monitor, control and supervise the performance and operation of remote equipment and installations via Ethernet, GSM, GPRS or 3G networks.
Remote monitoring  systems  cover complete end-to-end solutions for power generators, renewable energy, telecom base stations, tank monitoring, building and HVAC, industrial automation and much more.
Remote monitoring and control systems provide the capability to maintain visibility and control over equipment, facilities and operations in unattended, inaccessible and distant locations.
Typical capabilities of remote monitoring solutions include:
Monitor temperature, level, flow and other parameters – a web based user interface provides secure access for authorized users of field installations. By creating application specific dashboards, field data from remote installations can be visually displayed and users are provided full control of equipment parameters.
 Receive alerts and status updates by smart phones, fax or computer – instant information regarding both current and historical alarm status of each remote site. Thresholds are configured and notifications distributed to the different users of the system, via SMS or e-mail, which allows equipment health and system operation to be monitored
 Control equipment either automatically or by remote command – run remote tests of equipment for periodic checking of intermittently used field equipment.
 Analyse collected data – by analysing historical data and monitoring trends, it is possible to learn how equipment and devices perform in the field. Visualized trends make it easy to analyse field data and spot deviations. For detailed analysis, data can be exported to tools such as Microsoft Excel or similar
There are three main elements to any cloud based remote monitoring system.
The first is the physical layer: A gateway attached to the remote equipment which sends and receives data.
The second is the central server that collects and stores the data.
The third is secure access to the data through a web interface.
Building & HVAC Monitoring
As a building owner or equipment supplier you can save money and resources by staying on top of energy consumption and equipment status.
A remote monitoring system will provide you with:
Online access to building parameters wherever you are.
Easier energy audits — get statistics and reports on historical consumption.
Fewer on-site visits.
Alarms whenever certain levels are reached
Power Generator Monitoring
Power generators (gensets) may not run often, but when needed it is critical that they perform properly. However, a high percentage of gensets in the field do not start when needed.
With a remote monitoring system, you can:
Ensure that the generators start when needed
Reduce on-site visits
Get instant access to generator status and alarms
Keep track of your generators and 'geo-fence' them using GPS to protect them from theft
Industrial Automation Monitoring
To manage industrial machinery in an efficient way, you need to get a good overview of parameters from your devices. But how do you keep track of remote machinery without visiting it every day?
With a remote industrial monitoring system, you can get in control of different automation equipment:
Online access to energy consumption, performance levels etc
If your machine is consuming material, you can see how much is left
Facilitate energy audits — get statistics and reports on historical consumption
Alarms whenever certain levels are reached

Water/wastewater Monitoring
How can you make sure that your pumps are operational when water levels rise? Or when your water storage tanks are at full capacity?
With a remote monitoring solution, you can see the exact status of your pumps and water levels without being physically present 24/7. You can also monitor the energy consumption to streamline your operations.
Stay up-to-date with the status of your pumps and exact water levels in basins and tanks.
Reduce on-site visits.
Get alarms whenever certain levels are reached.
Get statistics and reports at any time to perform energy audits
For more information please call us on 01494 865992 or click here